Dual Channel, IQSmartTM Load Switch with TRCB
Per Channel
Supply Voltage Range: 1.5 V to 5.5V
Slew Rate Control Pin of Output RiseTime
True Reverse Current Blocking Protection
Low RON:

175 mΩ Typ @5.5 VIN
220 mΩ Typ @3.3 VIN
265 mΩ Typ @2.5 VIN

IOUT Max: 1 A Continuous Output Current
Ultra-Low Quiescent Current, IQ

440 nA Typ. at 5.5 VIN
210 nA Typ. at 3.3 VIN
130 nA Typ. at 2.5 VIN

Ultra-Low Stand-by Current, ISD

20 nA Typ. at 5.5 VIN
4 nA Typ. at 3.3 VIN
3 nA Typ. at 2.5 VIN

Output Discharge Switch When Disabled
Smart Mobile Devices
IoT Devices
Low Power Subsystems
PACKAGE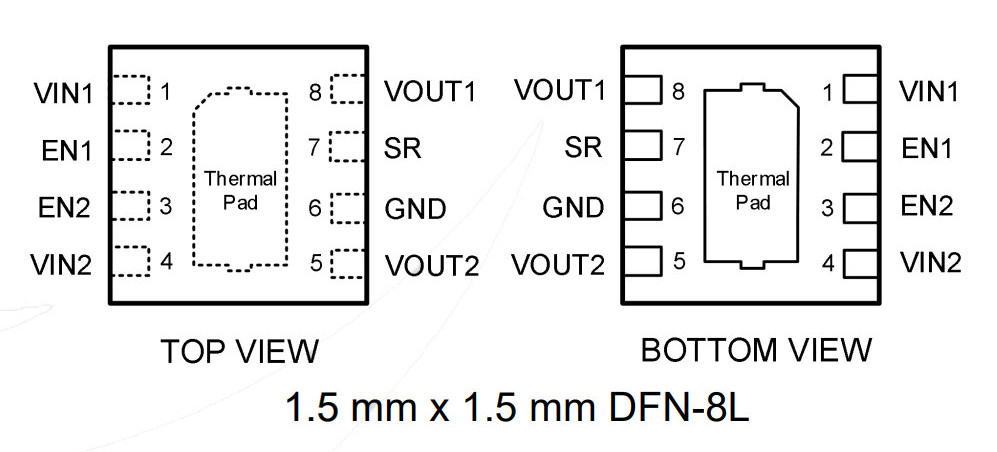 PRODUCT DESCRIPTION
The GLF1421 is an ultra-efficient dual channel load switch with slew rate control as well as a true reverse current blocking function. The devices feature the ultra-efficient IQSmartTM technology that supports some of the low RON, quiescent currents (IQ), and shutdown currents (ISD) in an input voltage range from 1.5 V to 5.5 V.
The GLF1421 features an industry leading true reverse current blocking (TRCB) function at both on and off states. The integrated slew rate control can also enhance system reliability by mitigating bus voltage swings during switching events. Where uncontrolled switches can generate high inrush currents that result in voltage droop and/or bus reset events, the GLF1421 slew rate control specifically limits inrush current during turn-on to minimize voltage droop.
Each channel runs independently controlled by separate EN control pin. Both devices feature an integrated output discharge switch when they are turned off to discharge output capacitors quickly.