IQSmart™ Power Mux - Simple, Elegant, High Performance
Key Features
2 Power Rails In --> 1 Power Rail Out
Power Source Auto Selection
No External Control Components Required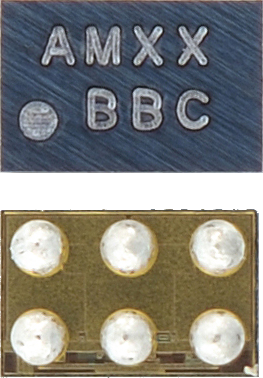 GLF's power Mux (Power Multiplexer) designs are optimized for simplicity of installation and use. They are ideal for wearables and other small form factor systems, where space and component count is a premium.
A power Mux selects between mulitple power sources on its input, to provide a single power rail on its output. Traditional input power rails may include a charger and a battery, an aux and main battery, or two chargers: one wired and one wireless.
GLF offers a uniquely simple power mux solution, that requires no external components to control power selection. A typical power mux requires outside monitoring and processing to decide which power rail to select. There is no space for this in an ultra small wearable. GLF power mux designs offer a single low IQ chip that self selects its power source, and is specifically designed to require no external componets, monitoring, or extra processor pins to operate. Its a true place and forget solution.
| Product Name | Type | Abs Max (V) | Vop Max (V) / Vout Voltage [V] | Ron Typical @Vop Max (mΩ) / Vout Accuracy [%] | IQ Typical @Vop Max (nA) | Isd Typical @Vop max (nA) | Slew Rate Control | RCB (Reverse Blocking) | Input Auto Select | Package Size (mm) | EVB Manual | Status |
| --- | --- | --- | --- | --- | --- | --- | --- | --- | --- | --- | --- | --- |
| | | | | | | | | | | 1.27 x 1.67 x 0.55 | | Released |
| | | | | | | | | | | SOT23-6 | | Released |
| | | | | | | | | | | SOT23-6L | | Released |
| | | | | | | | | | | SOT23-6 | | Released |
| | | | | | | | | | | 1.27 x 1.67 x 0.55 | | Released |
| | True Reverse Current Blocking | | | | | | | | | 1.27 x 1.67 x 0.55 | | Released |
| | | | | | | | | | | 0.97 x 1.47 x 0.55 | | Released |