IQSmart™ Load Switches – The Industry's Lowest Off-State Leakage
Best-in-class features
Ultra-Low Off State Leakage
Ultra-Low On State Resistance
Ultra-Low On State Power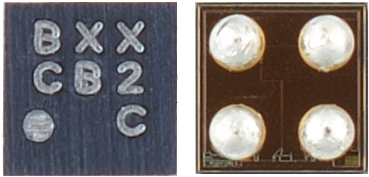 The ideal load switch would draw zero current when the application is in standby mode.
We believe GLF's IQSmart™ load switches are the closest you can get to perfection.
Our ultra-efficient and compact load switches not only offer ultra-low leakage current – up to 50 times lower than other load switches – they also exhibit the lowest RDS(ON) for a given small form factor.
| Product Name | Type | Abs Max (V) | Vop Max (V) / Vout Voltage [V] | Ron Typical @Vop Max (mΩ) / Vout Accuracy [%] | IQ Typical @Vop Max (nA) | Isd Typical @Vop max (nA) | Slew Rate Control | RCB (Reverse Blocking) | Package Size (mm) | EVB Manual | Status |
| --- | --- | --- | --- | --- | --- | --- | --- | --- | --- | --- | --- |
| | True Reverse Current Blocking | | | | | | | | 0.97 x 0.97 x 0.55 | | Released |
| | Nano-Current Consumed Power Switch | | | | | | | | 0.97 x 0.97 x 0.55 | | Released |
| | Nano-Current Consumed Power Switch | | | | | | | | 1.5 x 1.5 DFN-8L | | Released |
| | True Reverse Current Blocking | | | | | | | | SOT23-5 | | Released |
| | True Reverse Current Blocking | | | | | | | | 0.97 x 0.97 x 0.55 | | Released |
| | True Reverse Current Blocking | | | | | | | | SOT23-5 | | Sampling |
| | | | | | | | | | 0.97 x 1.47 x 0.55 | | Released |
| | | | | | | | | | SOT23-5 | | Released |
| | | | | | | | | | 1.27 mm x 1.67 mm x 0.55 mm | | Released |
| | Nano-Current Consumed Power Switch | | | | | | | | 0.77x0.77x0.55 | | Released |
| | Nano-Current Consumed Power Switch | | | | | | | | 0.77x0.77x0.55 | | Released |
| | Nano-Current Consumed Power Switch | | | | | | | | 0.67 x 0.67 x 0.425 | | Released |
| | Nano-Current Consumed Power Switch | | | | | | | | 0.77 x 0.77 x 0.55 | | Released |
| | True Reverse Current Blocking | | | | | | | | 0.67 x 0.67 x 0.425 | | Released |
| | Nano-Current Consumed Power Switch | | | | | | | | 0.67 x 0.67 x 0.425 | | Released |
| | True Reverse Current Blocking | | | | | | | | SOT23-5 | | Released |
| | Nano-Current Consumed Power Switch | | | | | | | | 0.67 x 0.67 x 0.425 | | Released |
| | True Reverse Current Blocking | | | | | | | | 0.77 x 0.77 x 0.46 | | Released |
| | Nano-Current Consumed Power Switch | | | | | | | | SOT23-5 | | Released |
| | Nano-Current Consumed Power Switch | | | | | | | | 0.77x0.77x0.46 | | Released |
| | | | | | | | | | 0.97 x 0.97 x 1.47 x 0.55 | | Released |
| | True Reverse Current Blocking | | | | | | | | 0.77x0.77x0.55 | | Released |
| | Nano-Current Consumed Power Switch | | | | | | | | SOT23-5 | | Released |
| | | | | | | | | | 1.27 x 167 x 0.55 (0.35 Thin) | | Released |
| | True Reverse Current Blocking | | | | | | | | 0.77 mm x 0.77 mm x 0.46 mm | | Released |
| | Nano-Current Consumed Power Switch | | | | | | | | SOT23-5 | | Released |
| | True Reverse Current Blocking | | | | | | | | 0.97 x 1.47 x 0.55 | | Released |
| | True Reverse Current Blocking | | | | | | | | 0.67 x 0.67 x 0.425 | | Released |
| | | | | | | | | | 0.77 x 0.77 x 0.55 | | Released |
| | True Reverse Current Blocking | | | | | | | | 0.97 x 1.47 x 0.55 | | Released |
| | | | | | | | | | 1.27 x 1.67 x 0.55 | | Released |
| | Nano-Current Consumed Power Switch | | | | | | | | 0.67 x 0.67 x 0.425 | | Released |
| | Nano-Current Consumed Power Switch | | | | | | | | SOT23-5 | | Released |
| | Nano-Current Consumed Power Switch | | | | | | | | 0.67 x 0.67 x 0.425 | | Released |
| | Nano-Current Consumed Power Switch | | | | | | | | 0.77 x 0.77 x 0.46 | | Released |
| | Nano-Current Consumed Power Switch | | | | | | | | 0.77 x 0.77 x 0.46 | | Released |
| | Nano-Current Consumed Power Switch | | | | | | | | 0.97 x 1.47 x 0.55 | | Sampling |
| | Nano-Current Consumed Power Switch | | | | | | | | 0.77 x 0.77 x 0.46 | | Released |
| | Nano-Current Consumed Power Switch | | | | | | | | 0.77 x 0.77 x 0.46 | | Released |
| | Nano-Current Consumed Power Switch | | | | | | | | 0.77 x 0.77 x 0.46 | | Released |
| | Nano-Current Consumed Power Switch | | | | | | | | 0.97 X 0.97 X 0.55 | | Released |
| | Nano-Current Consumed Power Switch | | | | | | | | 0.97 x 0.97 x 0.55 | | Released |
| | Nano-Current Consumed Power Switch | | | | | | | | 0.77 X 0.77 X 0.35 | | Released |
| | Nano-Current Consumed Power Switch | | | | | | | | 0.97 x 0.97 x 0.55 | | Released |
| | Nano-Current Consumed Power Switch | | | | | | | | 0.97 x 0.97 x 0.55 | | Released |
| | Nano-Current Consumed Power Switch | | | | | | | | 0.97 x 0.97 x 0.35Thin | | Released |
| | True Reverse Current Blocking | | | | | | | | 1.5 x 1.5 DFN-8L | | Released |
| | Nano-Current Consumed Power Switch | | | | | | | | 0.97 x 1.47 x 0.55 | | Released |
| | Nano-Current Consumed Power Switch | | | | | | | | 0.97 x 1.47 x 0.55 | | Released |
| | True Reverse Current Blocking | | | | | | | | 0.97 x 1.47 x 0.55 | | Released |
| | True Reverse Current Blocking | | | | | | | | 0.77 x 0.77 x 0.46 | | Released |
| | True Reverse Current Blocking | | | | | | | | 0.97 x 0.97 x 0.55 | | Released |
| | True Reverse Current Blocking | | | | | | | | 0.97 x 0.97 x 0.55 | | Released |
| | | | | | | | | | 0.97 x 1.47 x 0.55 | | Sampling |
| | | | | | | | | | 0.97 x 0.97 x 0.55 | | Released |
| | | | | | | | | | 0.97 x 0.97 x 0.55 | | Released |