Ultra-low Power, 4.5 A Power Mux Switchwith True Reverse Current Blocking
Two-Input and Single-Output Power Multiplexer Switch
Automatic and Manual Input SelectionModes
True Reverse Current Blocking on EachChannel
Supply Voltage Range: 2.0 V to 5.5V
RON = 20 mΩ Typ at 5.5 VIN1 or VIN2
4.5 A Continuous Output Current CapabilityPerChannel
Ultra-Low Supply Current at Operation
Ultra-Low Stand-by Current

ISD: 30 nA Typ at 5.5 VIN

Smart Control Pins

IEN and ISEL : 10 nA Typ at VEN or VSEL >VIH
REN and RSEL : 500 kΩ Typ

HBM: 6 kV, CDM: 2 kV
Smart Devices
Subsystem with Backup Power
IoT Tracking System
BLOCK DIAGRAM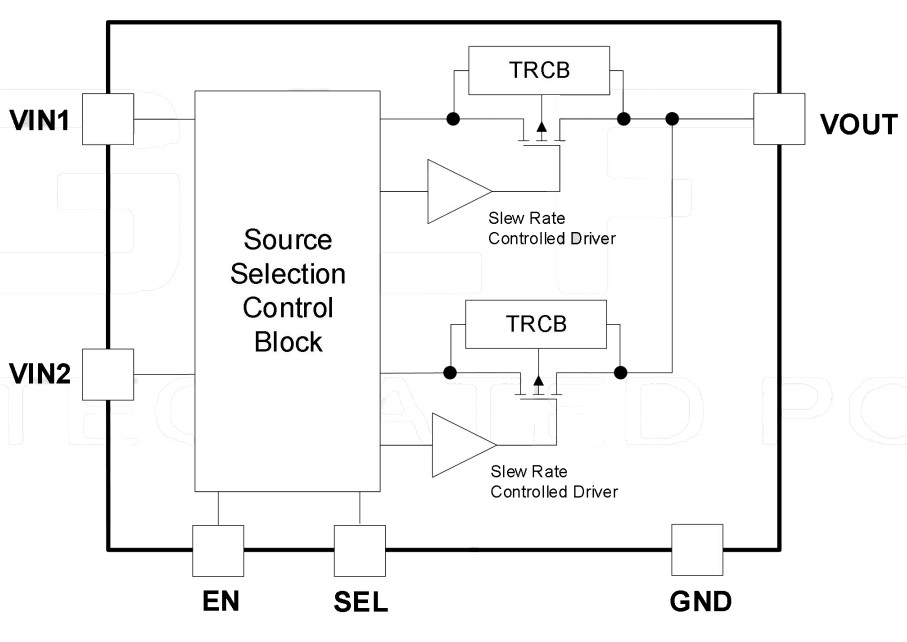 APPLICATION SCHEMATIC

PRODUCT DESCRIPTION
The GLF74139 is a fully integrated power path switch with the automatic and manual selection function. The GLF74139 offers an industry leading true reverse current blocking (TRCB) function to protect input sources when the VOUT increase higher than VIN abnormally.
The EN pin can be used along with the SEL pin to control two integrated main FETs of the GLF74139. By the combination of these two pins, one of input source selection modes is set to provide power to downstream system seamlessly.
The automatic selection mode chooses a higher input voltage source between two inputs. In the manual selection mode, one of input sources is connected to downstream system.